WARNING: FiberFugly bags ahead 
I know I make crazy bags, but I have really lost the plot now you may think. Well, the thing  is, I wanted to show most of my various shapes and sizes of bag in the same fabric, and I had a lot of this and not much use for it really, so there we have it. Here are in matching fabrics, a small Socker/Twofer bag, a Knitbox, a Birdhouse and a Sockhouse bag, an Earsbag, cat edition, and my brandnew FiberCave ! (there will be more of those in very different fabrics over the coming days, I promise !) Now if you happen to be a supporter of the Dutch national soccer team, then the ones with orange added in might appeal, and I do know there are lots of knitting soccer enthusiasts out there, but please, if you do, support the women's teams. They don't get millions to live on and are actually winning matches in the Dutch case, which can't be said for the men's team.
And here are some collages that show the various bags next to each other so you can see how they compare.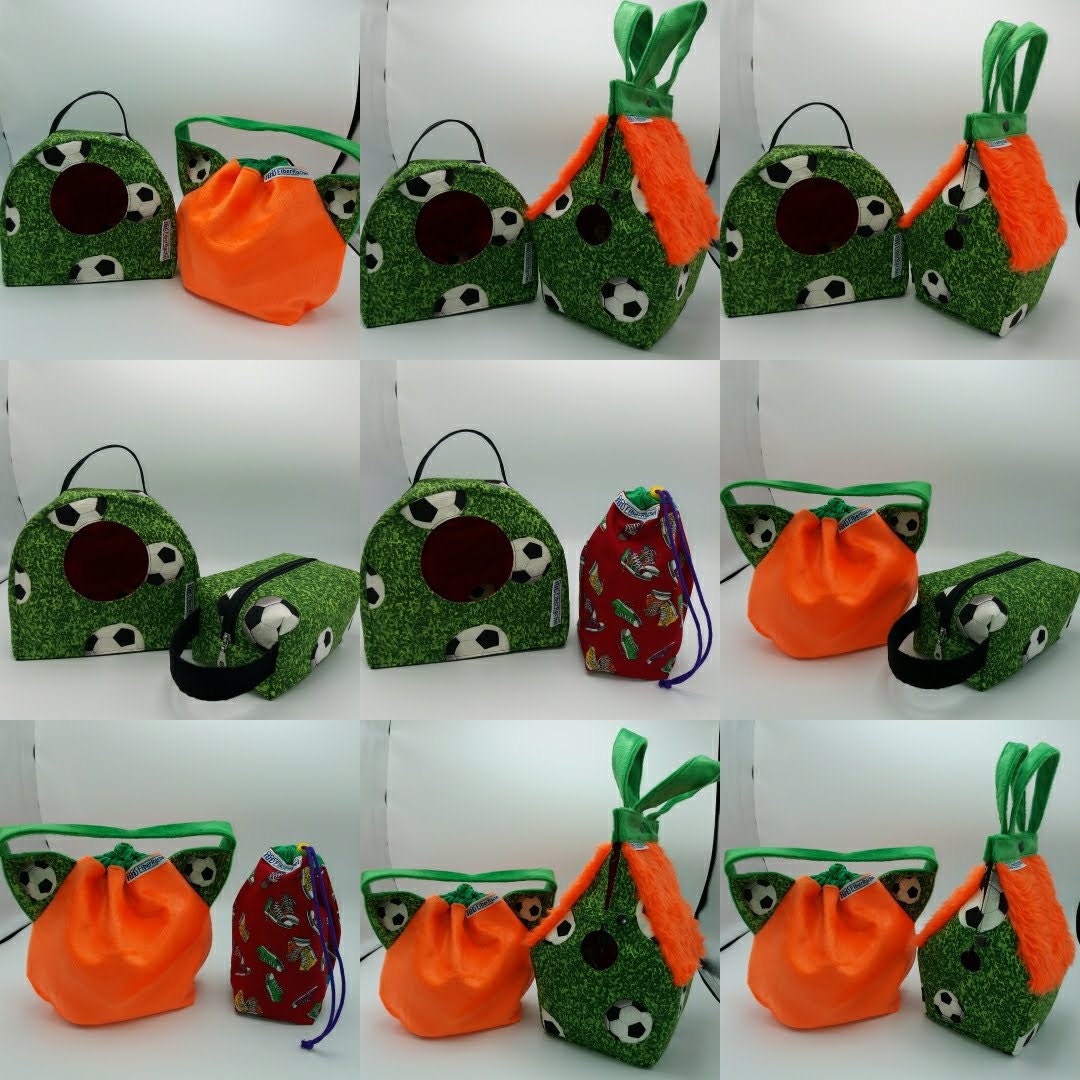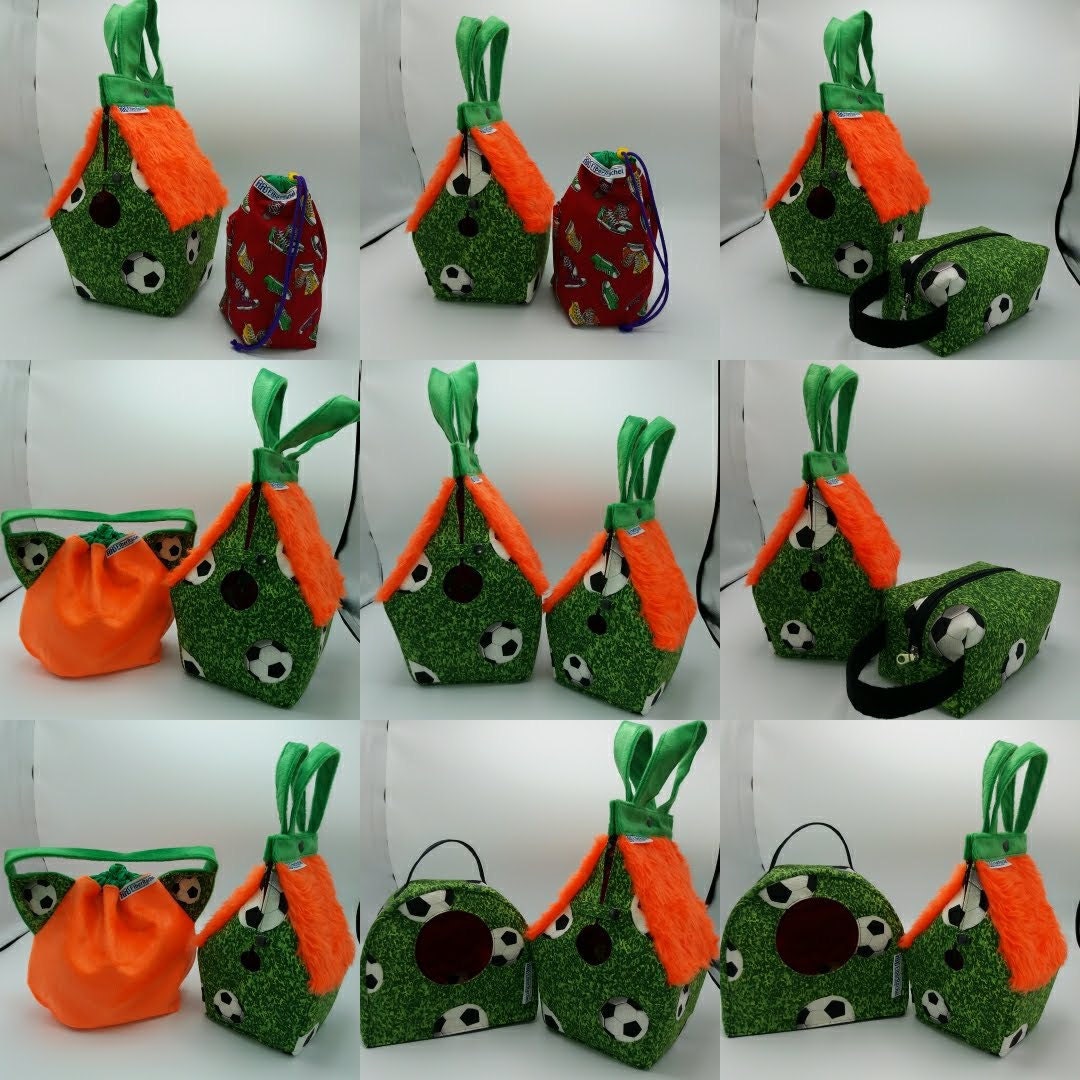 The various bags are:
the Socker or Twofer bag, a small soft drawstring bag for just 1 skein of yarn and your sock project, or maybe a small crochet project. It is fully lined and in case of the Twofer, reversible with two good sides.
the Knitbox, a boxbag with a sturdy zipper and handle, that can easily hold 2 skeins of yarn and your project.
the Earsbag, a drawstring bag with a handle that gives the bag the ears like a cat's. I have some other versions too with Mickey mouse ears or more pointy ones. This bag will hold 2-3 skeins easily and your sock, shawl or other project. I have made some special orders of these with a shoulder strap, or two straps to wear it as a rucksack even, just ask if you would be interested in this too. I also made some special versions for charity, the Puss in Boobs bag, adding a bra-shape to the outside, and the Pink Ribbon edition, with the ribbon shape instead of the handle, this last version is still available from my shop.
The Birdhouse Bag was my first major design and has become a signature bag almost. The largest Birdhouse size will easily hold 500+ g of yarn and things like a tablet, case of interchangeable knitting needles etc.
The Sockhouse bag is the smaller birdhouse shaped bag, which will easily hold 2-3 skeins of yarn and the project. Both birdhouse bags act as walking wrist bags, yarn bowls, what have you, as the yarn can stay in the bag while you knit, leading the end out through the hole on the front. In pictures you can distinguish each by looking at the closure above the hole. The Sockhouse has just as small tab and the Birdhouse has a longer band across. They are more heavily interfaced than the other bags and will hold their shape better, although any fabric bag will soften with use. I continue to test new interfacing materials to find a better match that will keep the shape longer without making it too bulky or rigid.
And then a brandnew bag, the FiberCave ! I have been working on this for a bit, trying to get the shape right, but this seems to work now. it is meant as a yarnbowl, or cubby hole for keeping things like sock yarn remnants, spinning fibers, etc. it will hold quite a lot of yarn and it sits firmly on any surface without falling over. The handle is long enough to wear on your wrist if you want to use it to hold your yarn or fiber while you are on the move. Watch out this week for this bag in other fabrics and some more fun special editions even.
International shipping
 [since writing this I have changed my shipping policies, see the Etsy Announcement on my shop page, and I will be touching on this in a new post in January 2019]
Now I wanted to explain the Dutch Postal system a bit, so that you understand why you are receiving your bags vacuum packed flat a lot of the time. The thing is, there is no 'small package' categorie in the Netherlands, and I have investigated all kinds of shipping companies, it just isn't possible here. I don't have the means to take everything to Germany to ship from there, so I have to make do. 
There are two main categories I use, the letter post option, which means vacuum packing bags, as long as the thickness doesn't exceed 3.2 cm I can use the cheaper shipping option, which still is NOT cheap (see picture). The next step up is a box with a flat rate for anything between 0 and 2 kilos, with tracking and the works, and that costs a LOT MORE.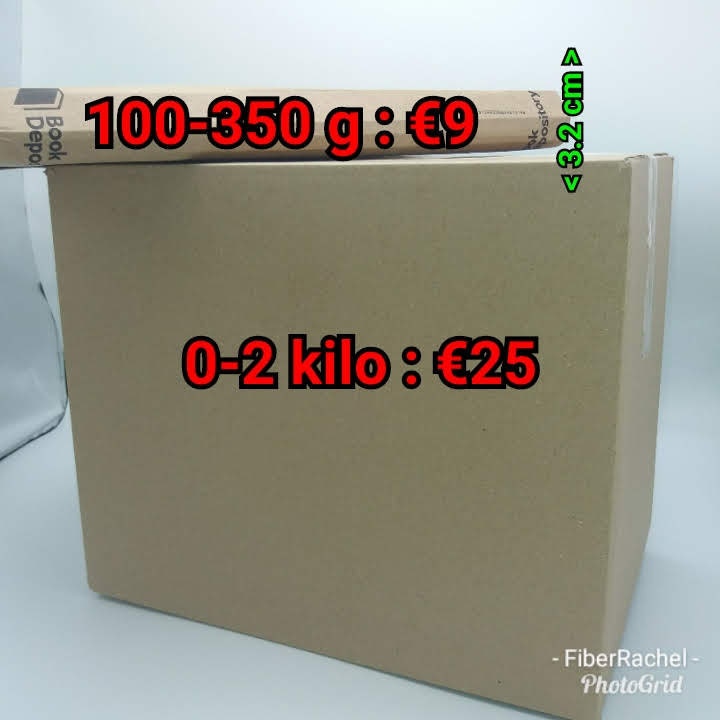 Soooooooo, I vacuum pack. and I know it hurts to order a lovely Birdhouse Bag and to receive as squashed item, but I suspect the higher costs really would deter people too much. I have added the boxed shipping as an upgrade, but I hope you understand why I don't offer it is as standard shipping for international orders.
I have in the mean time got a business mail account and will be slowly adding more options for other EU countries when in some cases it isn't much more expensive, so keep a look out for shipping upgrade options. I already ship EU items boxed occasionally depending on location and amount spent, without charging more, but I hope to add more specific rates for each country soon.
I also want to say I do try and re-use shipping materials, but would have to buy more myself than sell to do that all the time, it will depend on what I have and how big the parcel is etc. (trying to keep it in the flat pack range). I am also trying to use less plastic, but to be honest, it is not possible to get a birdhouse bag fit in an envelope without vacuum packing it, so it has to be plastic. 
One of the benefits seems to be that these flat packs generally do not get caught by customs in countries where that would apply, whereas a box most definitely would.
The Art of Bag resuscitation
Now, because of the vacuum packing, a fabric bag will look a bit frumpy when unpacked, and here are some tips on how to breath life back into them.
first just give it a good shake and give it a chance to draw air back into the padding etc.
then you can spray it with a bit of water or wet it more fully even and if you stuff it with towels while kneeding it into shape, then let it dry hanging, it will come out looking a lot better.
if you are sure about the fabric (and I use some pretty synthetic weird ones at times, so be careful), you can steam iron it from the inside, and sometimes the outside too if it is a mainly cotton bag. If you aren't sure please send me a message and I can tell you more.
you can also steam the bag while it is hanging, again, be careful and shape it before letting it dry hanging.
just use it, put your knitting in and carry it around and it will soon loose most of the rumpled look.
That is all for this post, I will be back after having had my Trunkshow in Kortrijk, Belgium on the 30th at the Bart & Francis specialty yarn factory. Looking forward to meeting people there, feel free just to drop in and see the bags in person, in between enjoying all the yarn on the top floor. Look on my events page for details.
Coming week look for updates with the new Fibercave bag, some special editions and finally the Game of Thrones (mainly Birdhouse bag) series.